Book City
Artemis Journal is creating podcasts, Artemis Speaks, of writers and artists they publish. Go to our podcast on the Artemis journal website.
https://www.artemisjournal.org/podcast
http://BOOK CITY ★ Roanoke archive
Artemis Journal 2022

Featured Artists and Writers
Betty Branch, artist, maintains a studio and gallery in Roanoke, VA. For the first thirty years of her career, Branch focused on the female form and defined female rites of passage in both traditional and unorthodox media. In recent decades she has produced numerous public monuments and commissioned sculptures of varying subjects. She spent a portion of many years working at Nicoli Studios in Carrara, Italy, and notably, she was the only American exhibitor invited to the first Salon International de la Sculpture Contemporaine in Paris, in 1990. Branch's award-winning art has been widely exhibited in the US and abroad, with works from small to monumental in private, corporate, university, and museum collections. https://www.bettybranch.com
Steven Kenny, artist was born in Peekskill, New York in 1962 and now resides in Check, VA. He attended the Rhode Island School of Design, receiving a BFA in 1984. After studying independently in Rome he gained notoriety as a freelance commercial illustrator. Clients included Sony Music, Time Magazine, AT&T, United Airlines, Celestial Seasonings, Microsoft, and many others. His illustrations repeatedly received awards from the Society of Illustrators, Communication Arts Magazine, and the Art Directors' Club of New York. In 1997 Steven turned away from illustration in order to devote his full attention to the fine arts. His award-winning paintings are exhibited in galleries across the United States and Europe. Honors include grants from the Virginia and Franz Bader Fund, the Joyce Dutka Arts Foundation, fellowships from the Virginia Commission for the Arts, Virginia Center for the Creative Arts, and Creative Pinellas. His paintings can be found in the permanent collections of the Polk Museum of Art, Leepa-Rattner Museum of Art, Museo Arte Contemporanea Sicilia, State College of Florida, and many private collections around the world. http://www.stevenkenny.com/
Nikki Giovanni, poet, is one of America's foremost poets. Over the course of a long career, Giovanni has published numerous collections of poetry—from her first self-published volume Black Feeling Black Talk (1968) to New York Times best-seller Bicycles: Love Poems (2009)—several works of nonfiction and children's literature, and multiple recordings, including the Emmy-award nominated The Nikki Giovanni Poetry Collection (2004). Her most recent publications include Make Me Rain: Poems and Prose (2020), Chasing Utopia: A Hybrid (2013) and, as editor, The 100 Best African American Poems (2010). A frequent lecturer and reader, Giovanni has taught at Rutgers University, Ohio State University, and Virginia Tech, where she is a University Distinguished Professor. https://nikki-giovanni.com/
Jane Smith, writer, lives in Cheshire, England with her family of humans and dogs. She writes both fiction and non-fiction and campaigns on wildlife and environmental issues. She is a contributor to the journal Dark Mountain and in 2021 her essay 'Crossings' was short-listed for the inaugural Future Places Prize for Environmental Literature (UK). She is mainly interested in inter-species understanding and in human responses to climate emergencies. www.janecsmith.com
Natasha Trethewey, poet served two terms as the 19th Poet Laureate of the United States (2012-2014). She is the author of five collections of poetry, including Native Guard (2006)—for which she was awarded the 2007 Pulitzer Prize—and, most recently, Monument: Poems New and Selected (2018); a book of non-fiction, Beyond Katrina: A Meditation on the Mississippi Gulf Coast (2010); and a memoir, Memorial Drive (2020) an instant New York Times Bestseller. She is the recipient of fellowships from the Academy of American Poets, the National Endowment for the Arts, the Guggenheim Foundation, the Rockefeller Foundation, the Beinecke Library at Yale, and the Radcliffe Institute for Advanced Study at Harvard. She is a fellow of both the American Academy of Arts and Sciences and the American Academy of Arts and Letters. In 2017 she received the Heinz Award for Arts and Humanities. A Chancellor of the Academy of American Poets since 2019, Trethewey was awarded the 2020 Rebekah Johnson Bobbitt Prize in Poetry for Lifetime Achievement from the Library of Congress. Currently, she is a Board of Trustees Professor of English at Northwestern University. https://natashatrethewey.com
Artemis Journal 2021

Featured Artist and Writers
Donna Polseno, Artemis cover artist, "Voltarsi Verso L'Alto," is a sculptor and potter. She has lived in the mountains of southwest Virginia since graduating from Rhode Island School of Design. She has been honored with 2 NEA Artist Fellowships and a Virginia Museum Artists Grant. Donna has shown her work in major exhibitions in museums and galleries, nationally and internationally. Her work has been published in many books and magazines. She has taught seminars at many schools including  Penland School, Haystack Mountain School, Anderson Ranch, Jingdezhen University in China, La Meridiana School of Ceramics in Italy. She lives and works part-time in a small village in Italy. She was a ceramics instructor at Hollins University for 15 years, where she created and still directs the "Women Working With Clay" Symposium.  
Nikki Giovanni, poem 3-1593 400 Mulvaney Street, has been awarded an unprecedented 7 NAACP Image Awards which makes me very very proud. She was nominated for a Grammy; has been a finalist for the  National Book Award and has authored 3 New York Times and Los Angeles Times Best Sellers, highly unusual for a poet. Her most recent publications include Make Me Rain: Poems and Prose (2020), Chasing Utopia: A Hybrid (2013), and, as editor, The 100 Best African American Poems (2010). In Make Me Rain, she celebrates her loved ones and unapologetically declares her pride in her black heritage, while exploring the enduring impact of the twin sins of racism and white nationalism. A frequent lecturer and reader, Giovanni has taught at Rutgers University, Ohio State University, and Virginia Tech, where she is a University Distinguished Professor.
Luisa A. Igloria, poem Dear America (American Dream), is one of two co-winners of the 2019 Crab Orchard Poetry Open competition for her manuscript Maps for Migrants and Ghosts (Southern Illinois University Press, 2020). Originally from Baguio City, Luisa A. Igloria was appointed as the 20th Poet Laureate of the Commonwealth of Virginia (2020-2022). In 2015, she was the inaugural winner of the Resurgence Prize (UK), the world's first major award for ecopoetry, selected by former UK Poet Laureate Andrew Motion, Alice Oswald, and Jo Shapcott. Former US Poet Laureate Natasha Trethewey selected her chapbook What is Left of Wings, I Ask as the 2018 recipient of the Center for the Book Arts Letterpress Poetry Chapbook Prize. Other works include The Buddha Wonders if She is Having a Mid-Life Crisis (Phoenicia Publishing, Montreal, 2018), Ode to the Heart Smaller than a Pencil Eraser (2014 May Swenson Prize, Utah State University Press), and 12 other books.
Courtney Watson, Never Turn Your Back on the Water, winner of the "Women Hold Up Half the Sky" contest for her story, is a fiction and travel writer who earned her Ph.D. in English from The Center for Writers at the University of Southern Mississippi. A scholar of women writers as well as travel writing and literary tourism, she is always dreaming of her next destination and she is deeply inspired by the stories told in the places she visits. She lives to tell her own stories about places like the haunting beaches of southern Iceland, where she wrote the first lines of "Never Turn Your Back on the Water." Courtney is an Associate Professor of English at Radford University Carilion in Roanoke, Virginia. She teaches courses on women writers, health humanities, American modernism, and communication in the health sciences.
Artemis Journal 2020
Our featured writer, Natasha Trethewey, author of Native Guard, which received the Pulitzer Prize for poetry in 2007, will be presented in a theatrical reading with stunning visuals and live music on Sunday, March 8, 2020, at 7:30 p.m. at Hollins University theatre's Main Stage. Admission is free with seating on a first-come, first-served basis. A conversation with Trethewey, who earned her M.A. from Hollins in 1991, will immediately follow the performance.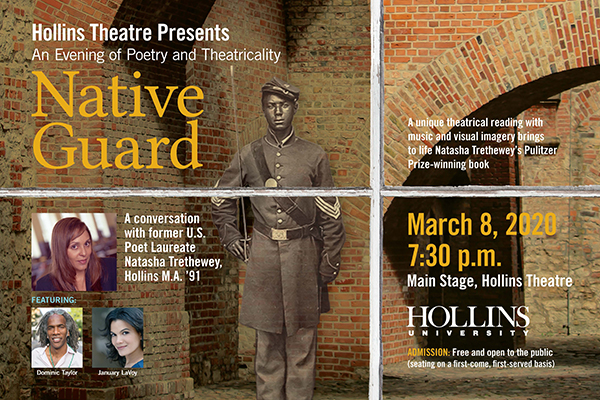 Featured Writer, Natasha Trethewey
U.S. Poet Laureate Natasha Trethewey
https://www.english.northwestern.edu/people/faculty/trethewey-natasha.html
Artemis Journal 2019 
Featured Artist, Sally Mann, Photographer
Featured artist Sally Mann (born in Lexington, Virginia, in 1951) is one of America's most renowned photographers. She has received numerous awards, including NEA, NEH, and Guggenheim Foundation grants, and her work is held by major institutions internationally. Her many books include At Twelve (1988), Immediate Family (1992), Still Time (1994), What Remains (2003), Deep South (2005), Proud Flesh (2009), The Flesh and the Spirit (2010), and Remembered Light (2016). In 2001 Mann was named "America's Best Photographer" by Time magazine. A 1994 documentary about her work, Blood Ties, was nominated for an Academy Award and the 2006 feature film What Remains was nominated for an Emmy Award in 2008. Her bestselling memoir, Hold Still (Little, Brown, 2015), received universal critical acclaim and was named a finalist for the National Book Award. In 2016 Hold Still won the Andrew Carnegie Medal for Excellence in Nonfiction. Premiering in March 2018, Sally Mann: A Thousand Crossings will open at the National Gallery of Art in Washington, DC. This comprehensive exploration of Mann's relationship with the South will travel internationally.  Mann is represented by Gagosian Gallery, in New York. She lives in Virginia.
Artemis Journal 2018


Artemis 2018 featured writer

Sharyn McCrumb
Artemis Journal 2017
Artemis featured writer 2017
Nikki Giovanni, poet
Artemis Journal 2016
Artemis 2016 featured poet & artist
Ron Smith, Virginia Poet Laureate 
Betty Branch, sculptor
Maurice Ferguson, Literary Editor, Jeri Rogers, Editor, Ron Smith,, Poet, Betty Branch, Artist
Artemis Journal 2015

The cover view was painted by Bill White from the Roanoke Taubman Museum of Art             
Artemis 2015 featured writer
Beth Macy is a journalist who writes about outsiders and underdogs. Her writing has won more than two dozen national journalism awards, including a Nieman Fellowship for Journalism at Harvard, a J. Anthony Lukas Prize for "Factory Man," and an L.A. Times Book Prize for "Dopesick," which was made into a Peabody Award-winning series for Hulu starring Michael Keaton. All three of her books, including her second book, "Truevine," were instant New York Times bestsellers.
Her fourth book with Little, Brown, and Co., "Raising Lazarus: Hope, Justice, and the Future of America's Overdose Crisis," publishes in August 2022. It is the essential follow-up to "Dopesick": an account of the activists and ordinary people working to fight the crisis by saving lives, erasing the stigma of addiction, and holding those in power—from drugmakers to lawmakers—responsible. She lives in Roanoke, Virginia, with her husband, Tom, and Mavis, their rescue mutt.
Artemis Journal 2014
Artemis 2014 featured artist
Sam Krisch, photographer
Contributing Writers & Artists
Melanie Almeder
Mike Allen – Mystic Delirium
Cynthia Atkins
Judy Light Ayylidiz
Blackbird
Book City
 Book No Further
Jennifer Brody
https://www.syfy.com/syfywire/disney-chills-part-of-your-nightmare-excerpt

Kelly Cherry
Mary Crockett Hill
Chris Rice Cooper Blog
The Cortland Review
 Katherine Devine
Groundhog Poetry Press – Richard Dillard's press
 Cathryn Hankla
Susan Hankla, writer
James River Writers
Jeanne Larsen
★  On writing and the word constructs we are
Felicia Mitchell
Poet's Market
Poetry Society of Virginia
Poets & Writers
Ashley Rhame
★ Uncovering ourselves through poetry
Roanoke Taubman Museum of Art
Shenandoah
Lee Smith
Katharine Soniat
Sow's Ear
The Quote Garden
The Hollins Critic
Thrush
Valley Voices
Virginia Quarterly Review:
Virginia Center for the Creative Arts (VCCA)