Book City
Artemis Journal is creating podcasts, Artemis Speaks, of writers and artists they publish. Go to our podcast on the Artemis journal website.
https://www.artemisjournal.org/podcast
http://BOOK CITY ★ Roanoke archive
Artemis 2020 featured writer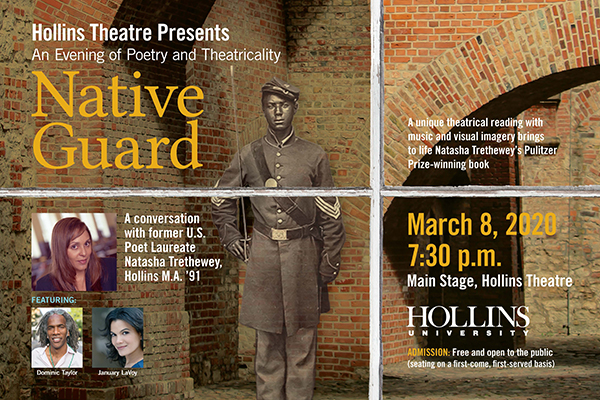 The Pulitzer Prize-winning book by Hollins University alumna and former U.S. Poet Laureate Natasha Trethewey
Trethewey's Native Guard, which received the Pulitzer Prize for poetry in 2007, will be presented in a theatrical reading with stunning visuals and live music on Sunday, March 8, at 7:30 p.m. on the theatre's Main Stage. Admission is free with seating on a first-come, first-served basis. A conversation with Trethewey, who earned her M.A. from Hollins in 1991, will immediately follow the performance.

https://www.english.northwestern.edu/people/faculty/trethewey-natasha.html
Artemis 2019 featured artist  
Sally Mann, Photographer
 Artemis 2018 featured writer

Sharyn McCrumb
Artemis featured writer 2014 & 2017
Nikki Giovanni, poet
Artemis 2016 featured poet & artist
Ron Smith, Virginia Poet Laureate 
Betty Branch, sculptor
Artemis 2015 featured writer
Artemis 2014 featured artist
Sam Krisch, photographer
Melanie Almeder
Mike Allen – Mystic Delirium
Cynthia Atkins
Judy Light Ayylidiz
Blackbird
Book City
 Book No Further
Jennifer Brody
https://www.syfy.com/syfywire/disney-chills-part-of-your-nightmare-excerpt

Kelly Cherry
Mary Crockett Hill
Chris Rice Cooper Blog
The Cortland Review
 Katherine Devine
Groundhog Poetry Press – Richard Dillard's press
 Cathryn Hankla
Susan Hankla, writer
James River Writers
Jeanne Larsen
★  On writing and the word constructs we are
Felicia Mitchell
Poet's Market
Poetry Society of Virginia
Poets & Writers
Ashley Rhame
★ Uncovering ourselves through poetry
Roanoke Taubman Museum of Art
Shenandoah
Lee Smith
Katharine Soniat
Sow's Ear
The Quote Garden
The Hollins Critic
Thrush
Valley Voices
Virginia Quarterly Review:
Virginia Center for the Creative Arts (VCCA)